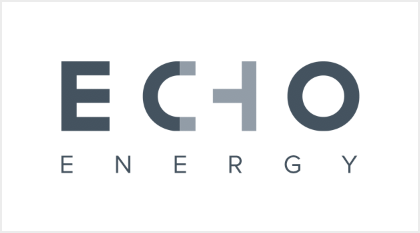 On March 24, 2020, Echo Energy Partners I, LLC sought protection under Chapter 11 of the Bankruptcy Code (Source).
Echo was estimated to have:
Assets: $50-$100 Million
Liabilities: $100-$500 Million
The bankruptcy announcement came just weeks after Echo Energy moved into their new downtown office at 120 Robert S. Kerr Ave, in a building nicknamed the Zig.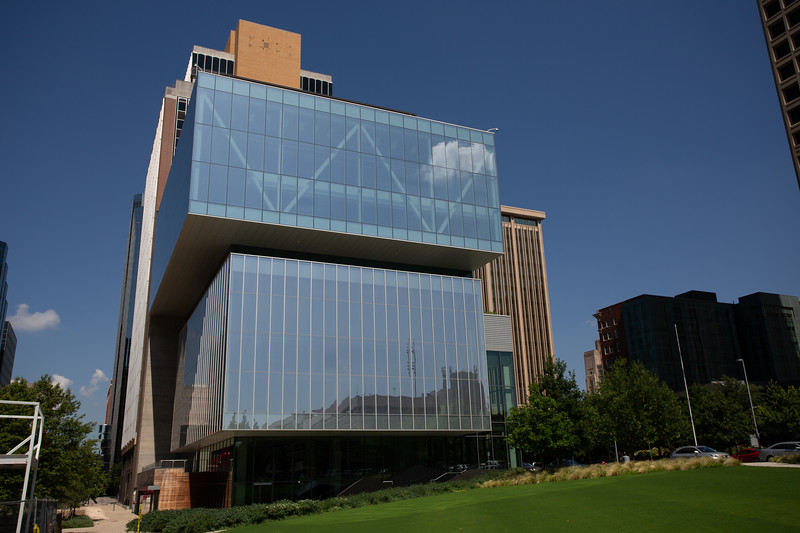 Back in January 2020, Echo Investment Partners LLC had retained the services of TenOaks Energy Advisors LLC to assist in the sale of 100% of the equity interests of Echo Energy Partners I, LLC. The assets included both operated and non-operated properties in the SCOOP and STACK plays. Asset highlights per the TenOak's teaser:
19,989 net acres (op and nonop) in the Scoop / Stack
About 7,851 net boe/d
About $3.5 million Monthly Cash Flow
About $113 million PDP PV-10 Value
About 60% of PDP hedged through 2020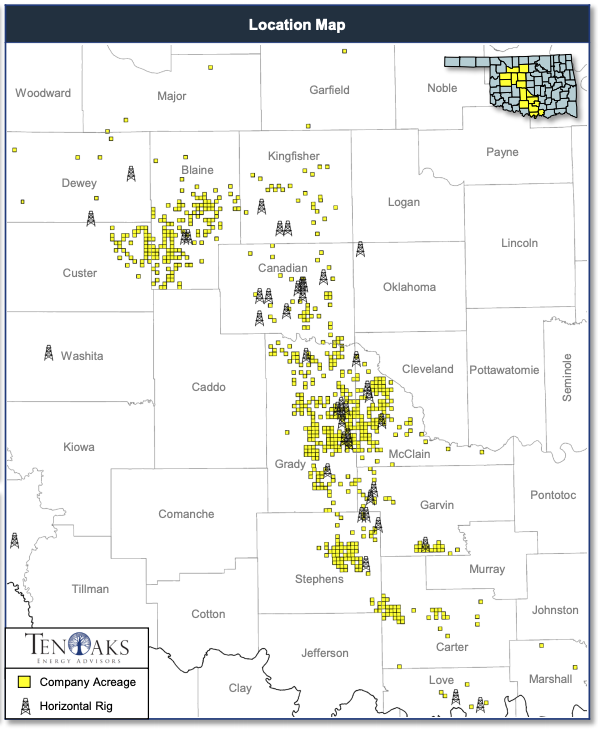 It appears that Echo was not able to receive an acceptable bid from the January listing and used the Bankruptcy Court for the Southern District of Texas to administrator the public bankruptcy auction proceedings. Due to Covid19, the auction was held via a video-conference. Based on the proceeding notes, companies that attended the auction included:
BCE-MACH
BENCHMARK ENERGY
CATHEXIS HOLDINGS
CONTINENTAL RESOURCES, INC.
EQUITY GROUP INVESTMENTS
HPS INVESTMENT PARTNERS
LIME ROCK PARTNERS
MARATHON OIL COMPANY
PEARL ENERGY
PERFORMANCE OPERATING PARTNERS, LLC
PERPETUAL PRODUCTION, LLC
RED WOLF NATURAL RESOURCES
RRP ACQUISITIONS 1 LLC
SCOOP I, LP
SILVER HILL ENERGY
TAILWATER E&P
TAOS RESOURCES
TAPSTONE ENERGY LLC
TITANIUM EXPLORATION PARTNERS
VALKYRIE
VARDE PARTNERS, INC
VENTANA TCB II, LLC
WAYFINDER RESOURCES
HPS Investment Partners was chosen as the highest and best qualify bid for Echo's entire asset package, with a total bid of $32.9 Million. The next highest bid was submitted by Benchmark Energy.
HPS Investment Partners
Cash Bid: $32,716,357
Cure Costs: $242, 223
Total Bid: $32,958.580
Benchmark Energy
Cash Bid: $32,616,357
Cure Costs: $242,223
Total Bid: $32,858.580
We could not find anything online about MP III Echo, LLC. The signature pages hint that "MP" is short for "Mezzanine Partners," but some on twitter think the company is related to the former CEO of Jones Energy, Jonny Jones, who is now CEO of McArron Partners LP.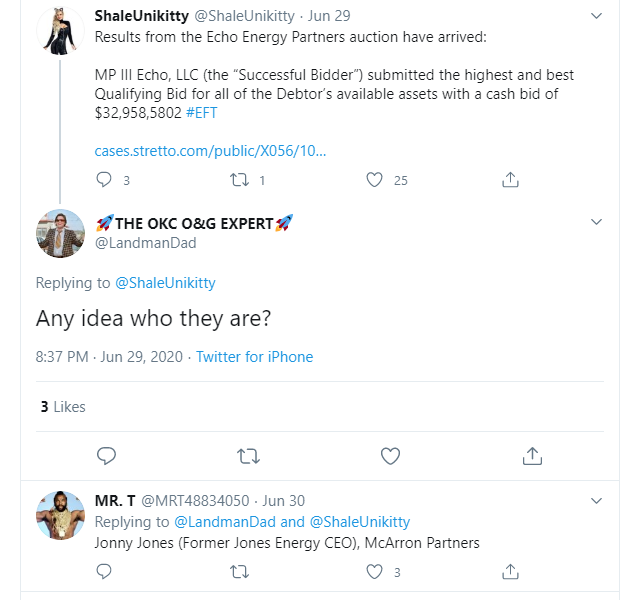 The public documents, starting at page 277, show the allocated values of each well included in the cash bid. You can also read the auction transcript which gives you insights into which companies are looking to deploy capital in today's market
---
Stay up-to-date with Oklahoma oil and gas activity by subscribing to our free newsletter. And schedule a demo to see our Land, Regulatory, and Well Data and Analytics platform in action!